Case Study: The Forestry Commission
Visitors can now see the woods for the car parks
A more disciplined approach to managing visitor centre car parks and new measures to improve the experience of customers are delivering "excellent results" for the Forestry Commission.
The organisation is reporting an increase in visitor numbers to its recreational centres in England, and has been working in partnership with Imperial Civil Enforcement Solutions to provide more efficient parking enforcement and improved compliance with the Commission's parking regulations.
Imperial has been working with the Forestry Commission to help transform the effectiveness and efficiencies of car park management and minimise evasion of parking fees. A progressive approach to replace manual parking charge notices has seen the introduction of smartphones with Rialto software and 3sixty enforcement processing software introduced for many of the most frequently visited forest visitor sites.
Imperial's Business Processing Unit in Northampton also undertakes all back office processing and the management of appeals on behalf of the Forestry Commission.
Since September Imperial has been rolling out its PaySmarti cashless parking module at the Forestry Commission's visitor sites across the country to enable visitors to pay for parking by using their mobile phone.
The system integrates seamlessly with the 3sixty back office system and has already helped to improve the customer experience at Forestry Commission centres in Buckinghamshire, Northamptonshire, Leicestershire, Worcestershire and Kent.
As a result of the positive feedback from visitors, the management teams at over 40 further Forestry Commission sites in England where parking is chargeable are now planning to introduce PaySmarti in the months ahead.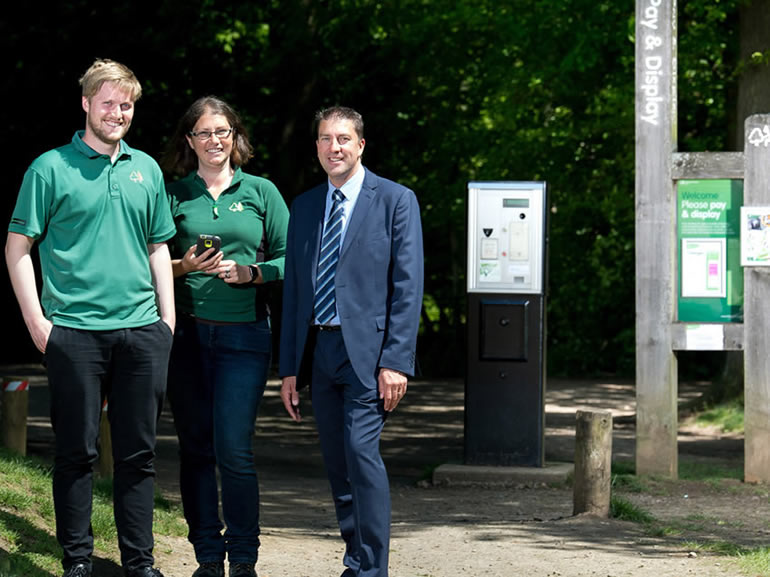 (l-r) Alastair Suddaby and Alexe Rosa of the Forestry Commission with Imperial's Leighton Ponting
"Access to the nation's forests is free and charging visitors for parking their car provides vital income for the Forestry Commission " says Josie Sterling, the Forestry Commission's Business Support Manager for Operations at its National Office in Bristol.
"The revenue is reinvested to manage our forests and provide extra facilities such as walking and mountain biking trails for visitors. That's why we needed to take steps to address evasion of parking fees and to improve payment options for the convenience of all visitors. Parking management is not our primary expertise, so we require the advice, support and experience of third parties such as Imperial in helping us to achieve excellent results over the past few years."
Alastair Suddaby, the Forestry Commission's Business Support Supervisor says the new parking management and payment systems have proved popular with both visitors and local management teams.
"Our National Operations team provides guidance and support for local teams around the country, although the adoption of new systems is voluntary and determined by local priorities and requirements" says Suddaby.
"Introducing automated enforcement and the convenience of a reliable cashless payment system have, however, proved to be very successful and we're delighted that more sites are following suit. In addition, the enforcement software is providing useful data to help us identify potential issues and monitor visitor numbers at each site."
The parking charges applied by the Forestry Commission are based on the Forestry Commission Byelaws 1982. Previously local Rangers and foresters have been responsible for enforcement at each visitor site. Some of the Forestry Commission's venues have extensive facilities with several hundred parking spaces while other sites are more remote with limited or no parking.
The three largest venues already using PaySmarti are Wendover Woods with 250 parking spaces and Salcey Forest and Wyre Forest with each having 150 spaces. The largest venue capitalising on Imperial's enforcement software is the Cannock Chase Forest in Staffordshire where there are 400 parking spaces.
All car parks are open from dusk until dawn and a 15 minute grace period is provided if there is no evidence of parking payment. The parking penalty charge is £50, which is reduced to £25 if paid within 14 days.
Imperial organised two training sessions for the Forestry Commission's national office team and District managers. A number of internal training exercises have also been undertaken to acquaint local management teams with the versatility and functionality of the new systems.
© 2023 Imperial Civil Enforcement Solutions Limited
Company Registration Number: 02023383 ¦ Registered Office Address: Century House, 1 The Lakes, Northampton, NN4 7HD